Fact: wash + go's work for every curl pattern. But they're one of the most intimidating styles because, despite so many women's beautiful and powerful transition to natural hair, certain kinds of curls and long lengths still pervade the natural hair industry and so much of our social media feeds—though not every woman has loose, shoulder-length ringlets.
This plays on the self-consciousness of many and drives this idea that natural hair has to be manipulated and stretched in order to be worthy. But we're here to tell you that the way your coils and curls grow from your head is perfect! It's why wash + go's are at the foundation of our brand.
And though simplicity is definitely key for the style, there are a few tips on ensuring you're super pleased with your hair if you opt for the look. In no particular order, here are some tips for getting your most fabulous wash + go every single time.
Trim Regularly & Shape Your Curls
Natural coils and curls hide damage better than straight hair, but if your hair isn't healthy, your wash + go's won't be poppin'. So, make sure you keep those bi-monthly trims scheduled and also make sure you go to a stylist who is well-versed in natural hair. Having the right cut and shape for your strands is vital, so you can wash + go with confidence.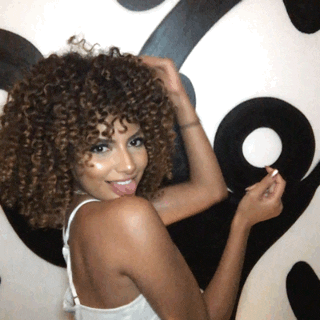 Do a Pre-Shampoo Treatment
 The key to your best coils and curls is soft, moisturized hair without any tangles. You'll be on your way there if you start before you get into the shower. A hot oil treatment, covering your hair with eggs, or lathering olive oil onto your ends are just some of the ways we like to start the process pre-wash.
Different Products Yield Different Results
 Natural hair does have a mind of its own, which is one of the things we love about it! It expands and changes throughout the day and reacts differently when it comes in contact with different formulas, ingredients, and products. So just be mindful that your curls could look altogether different based on what you use before the shower, in the shower, and after. Even using our four-step system every time may result in a slightly different look.
Mask to the Max
 A nutrient-rich, creamy mask makes all the difference in how your coils and curls look. It brings life back into your hair after a week of dealing with the elements, hydrates it, and adds definition. So, don't skip this step if you want your wash + go to be on point.
Detangling Is Your BFF
 Your coils and curls won't have any chance of flourishing if they're tangled or knotted. There are so many ways that you can approach detangling—some do it pre-shower, others do it during, and many do it post-shower. Anyway works for us: as long as you get it done! This is key to ensuring a great wash + go, that will last more than one day.
Don't Be Afraid To Diffuse
 Do you own a diffuser? If you've never used or purchased one, we're here to tell you that they can change your life…and your hair! One of the biggest keys to a wash + go is getting your hair dry, which we all know is a particular kind of struggle when your natural coils and curls retain water and never seem to want to let it go. But diffusers dry your strands and leave the definition. We cannot say enough good things about them.
Embrace & Love Your Hair
 One of the biggest lessons we all learn during our natural journey is to accept & love our hair the way it grows out of our heads. Wash + go's put our natural texture on full display, which can be overwhelming but is also incredibly beautiful and powerful. We love some good texture manipulation every now and then, by way of twist outs, bantu knots, and the like. But it is so fierce to stand confident in the way you look and to embrace your hair's versatility.